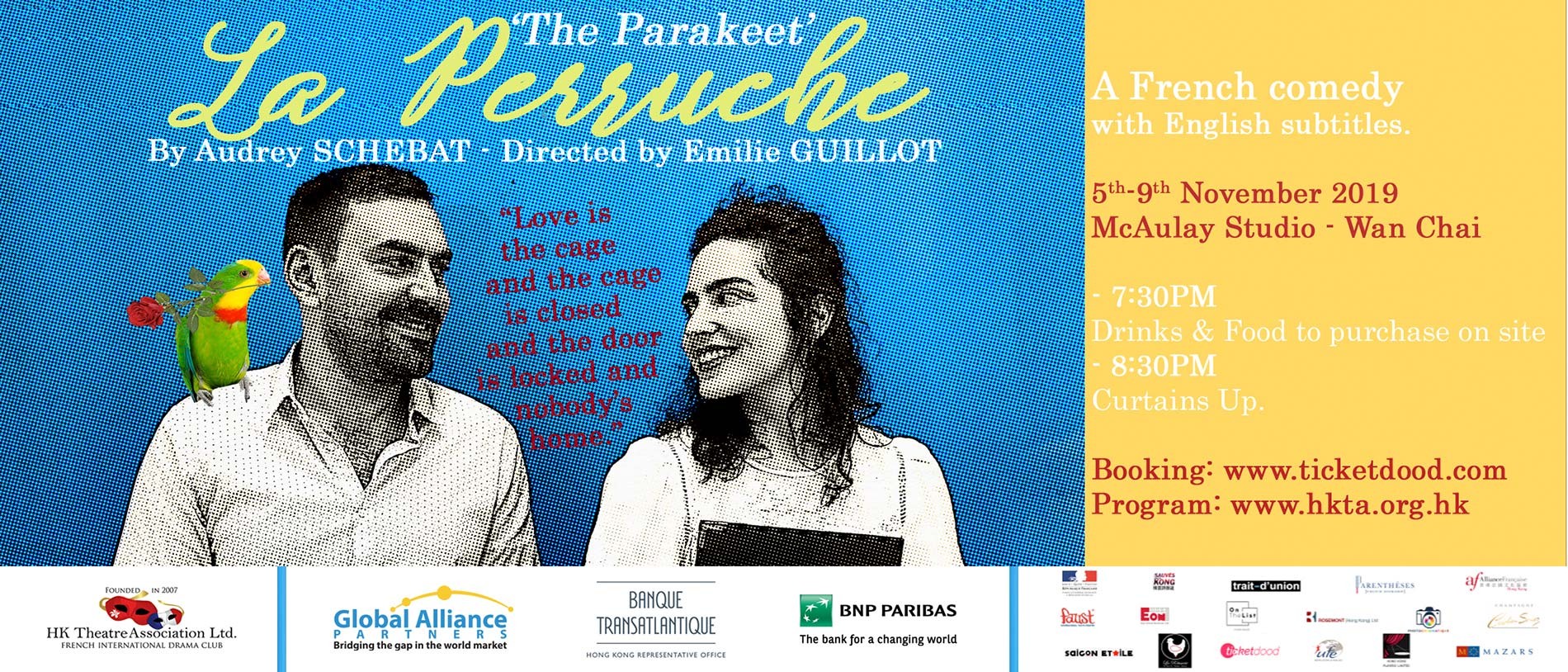 La Perruche – The Parakeet
2 Harbour Rd, Wan Chai, Hong Kong

Tue 05 Nov 20:30 PM
« La Perruche – The Parakeet »
By Audrey Schebat.
Directed by Emilie Guillot.
Romantic comedy in French with English simplified subtitles.
Plot:
In Audrey Schebat's La Perruche a married couple, while waiting for their friends to attend a small soiree, fall into disagreement and start to analyze the nature of their relationship. This couple, male and female, don a veritable wardrobe of well-worn married archetypes. Throughout the play we witness 1950's dynamics, 1990's sitcom banter, what feels like an allusion to A Doll's House, and contemporary technology. These masks, coupled with little analysis of social circumstances that somehow brought them to this state in 2019, create a loss of dramatic intimacy.
Dates: November 5th to 9th, 2019.
Time:
7:30PM:
Welcoming cocktail/Finger food to purchase on site.
8:30PM:
Curtains up – The Show.
Our cast:
Alma Brami and Bastien Guers
Our team:
Director/Producer: Emilie Guillot / Production Manager: Desirée Ho / Stage Manager: Cyril Ma / Production Team: Elizabeth Micci, Vita Starikova, Remi Guillot, Stella Garimberti, Michael Bobineau, Caterina Foti, Miguel Urmeneta and Hamish Campbell / Translation by Audrey Schebat / Photographer: Albert Cheung / Filmmaker: Andreas Guzman
Ticket prices:
380HKD + 10 HKD transaction fee for Adults
360HKD + 10 HKD transaction fee for HKTA/UFE/Alliance Française HK Members, BNP Paribas and GAP employees.
320HKD + 10 HKD transaction fee for HKTA Members only – code to obtain at the main desk.
(Mandatory members cards proof to access the theater or else call HKTA before 6PM on the day. Without proof of membership, entree may be declined. Thank you for your understanding.)
Venue partner:
HONG KONG ARTS CENTRE – McAulay Studio
2 Harbour Rd, Wan Chai
https://goo.gl/maps/TggDZRDtLQy
We deeply thank:
Our official sponsors:
Global Alliance Partners,
Banque Transatlantique Hong Kong,
BNP Paribas Hong Kong,
With our special sponsors for the nights:
Saigon Etoile for our vietnamese delicacies and
Christian Serez champagne – Jacques and Yvan Lorin.
---
Our partners:
Trait D'Union, Sauvés par le Kong, Hong Kong Players, OnTheList, Eon Limited, Mazars, Rosemont, BDO and Faust International.
Our friends:
Alliance Française Hong Kong,
Le Consulat Général de France à HK et Macau. Photochromatique,
Man Mo Dim Sum Café, Ticketdood,
UFE Hong Kong, BDO, Parenthèses.
Special Terms: PLEASE REMEMBER THAT THE SHOW WILL START AT 8.30PM ONLY. DOORS WILL OPEN AT 7.30PM FOR FOOD AND DRINKS TO PURCHASE ON SITE.